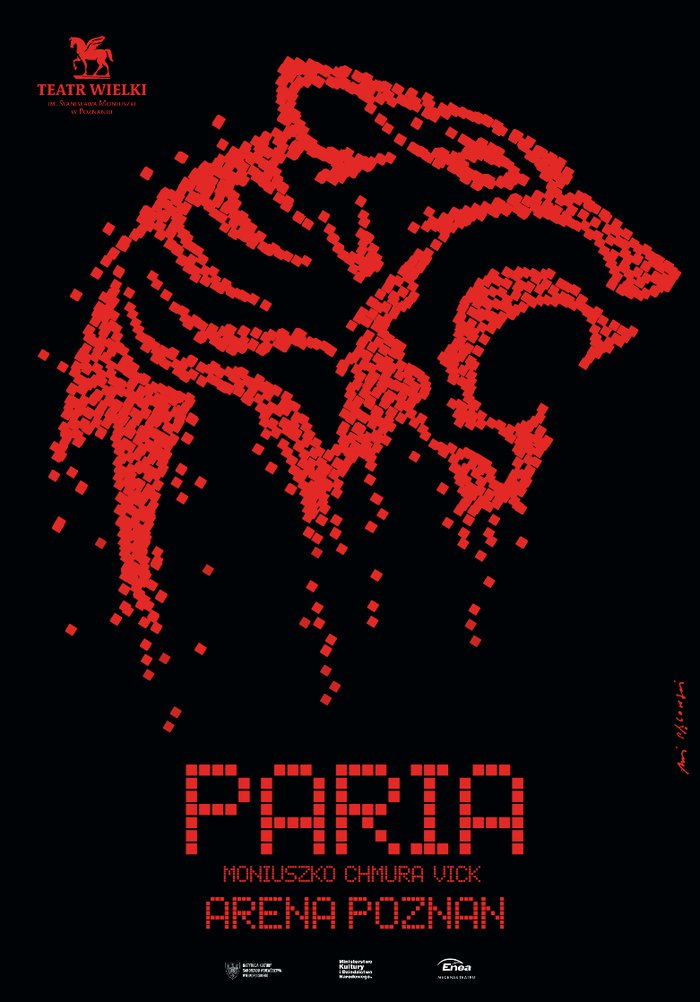 9 July 2019
Reviewed: Vick's Paria
Graham Vick's take on of Moniuszko's Paria is now available for watching on OperaVision. The production opened in Poznań on 28 June 2019 to rave reviews.

Here is a fragment of Aleksandra Kujawiak's review Make Opera Great Again for kultura.poznan.pl:

'Graham Vick's theatre is deeply democratic. As he said himself: "You don't need education to be moved, touched, fascinated by an opera." Moniuszko's Paria was staged in the Arena hall – a venue holding a special place in urban consciousness. Lack of seats and the arrangement of stages and artists in various spots within available space created a sense of being in the centre of events, even of having a real impact on them. An audience member is not a mere listener and spectator, he is one of the heroes. [...] Vick shows us that opera belongs to everyone. However, his work is not limited to banal clichés. Vick's theatre is simple, yet not vulgar, emotional, yet not populist, intellectual, yet not highbrow. Instead of primacy acrobatics he prefers to refer to our sensitivity and empathy. And he does so on many levels.
[...] It was the first time I had the opportunity to take part in such a theatrical opera. Drawing upon the means of non-musical theatre, Vick added to his opera vivacity and agitation different from that coming from musical perfection.'

Writing for Dwutygodnik.com, Stefan Drajewski noted:

'A concept of engaged – or engaging, if you will – opera, proposed by Vick in "Paria", is not just for the sake of cheap publicity. In parts the staging is even sophisticated as the director juggles conventions (street theatre, ritual theatre, Bollywood films, verismo). The audience of Poznań, raised on the Theatre Festival Malta, is used to performances moved to sports halls, especially when they are used as interestingly as in the case of Arena. Similarly to street theatre, one could pick a hero and follow him or her around, ignoring other stages; one could leave the space and come back later. However, whoever did so, missed a lot, as in spite of the organizers' declarations Paria is a very coherent performance (especially its second part). The opera engages also on the visual level, providing additional meaning in costumes (e.g., the costumes of priests superbly capture the nature of Polish ministry).'


Paulina Janas wrote this in e-teatr.pl:
'Inviting spectators to the stage minimised the acting space, but increased the expressiveness of acting performances. What soloists did became more intimate, their movements around the audience necessarily had to be more natural. Mikołaj Zalasiński (Dżares) and Szymon Kobyliński (Akebar) deserve credit for perfect diction, every word they sang was comprehensible. Monika Mych-Nowicka (Neala) and Dominik Sutowicz (Idamor) beautifully told their tragic love story. May we have more such audience-engaging projects, as they might convince people to go to the opera more often.'
Another enthusiastic review came from Natasza Thiem (Dziennik Teatralny):
'This experimental opera falls into the pattern characteristic for the director, Graham Vick, who once again plays with space and form, breaking down barriers between the spectator and the actor. For the opera audience of Poznań, accustomed to refined evenings in the Grand Theatre building, it is a novelty. […]
After the prologue, which introduces the conflict of the main character, Idamor (Dominik Sutowicz), and defines his attitude towards pariahs – he saves one of them – the spectators go through a metal door and enter the stage – the Arena's court. Now, the overture begins and the audience is able to walk around, reading out writings hanged on the actors' necks: artist, wart, dub, rebel, runaway, yahoo, savage... 


Everyone is different, everyone has its own story, but their labels characterise them in the eyes of the audience. The actors never take off the boards which mark their dissimilarity, despised by the Brahmins, priests, and the upper class. This disparateness is particularly apparent in the scene with the oracle's prophecy, in which the Brahmins sit on chairs, while petrified pariahs – people with labels – hide under them. […]
It is an engaging, vibrant opera. The director himself underlines that opera should be more accessible, he does not see it as an art for elites. In Graham Vick's opinion, you do not need cultural savvy or education to feel and understand. And this is the kind of opera he creates – accessible and full of emotion. A performance that engages the spectator and refers to problems we face today: high position of the church and its impact on human lives, the cult of violence, complicated relationships and universality of the term "pariah". The authors: Graham Vick (director) and Ron Howell (choreographer) pointed out during their work at the many meanings the word "pariah" may have today. We do not have to stick to the context of the Indian caste system, au contraire – we should reject it and read the term through the prism of European culture as a category of otherness. Who is this outsider? It can be someone of different skin colour, different culture, different (than ours) sexual orientation. In rehearsals the artists discussed different types of discrimination and how different does not mean wrong.
 Everyone can be the pariah – the outsider.'
Marta Szymańska and Asia Kucharska were equally commendatory (Kultura na co dzień):
'Graham Vick's work is not a play as we commonly understand it – it fulfils the postulates of socially engaged theatre, of the type of opera that aims at interacting with the audience. It is fresh, innovative, and surprisingly exhilarating. It is a living theatre in the full sense of the word.
The barrier between the stage and the audience was not merely blurred – it was broken down. There was no conventional stage, the action took place everywhere. The spectators were able to walk around the stage design and performers: soloists, chorister, dancers, and walk-ons. Even the orchestra was closer to the audience than it usually is – subtly backlit, it grandly overlooked the performers from high platforms, under which people could move around freely. This way everyone who was at the Arena in Poznań took part in the events. The artists blended skilfully in with the crowd, stage design was developed before the spectators' very eyes, actors and soloists were provoking active, authentic interactions with the spectators: they were inviting them to dance, handing out flowers, covering them with paint, even giving them surprise hugs. The audience, at first cautious and reserved, was allowed to move around freely, follow the actors around, sit, stand up – basically behave naturally. It allowed the spectators to experience art on a more personal level, to forget that it is fiction.
[...] Vick brilliantly combined two dimensions: contemporary and historical, metaphorical and literal. Modern elements were not thrusting or unsuited, far from it: they created another layer that made us, while watching a 3-act opera, reflect on our contemporary society, look for dependencies, identify problems, unfairness and pain we are often no longer conscious of.'
Last but not least, let us quote Beata Fischer (beatafischer.com):
'Of all the available plays Graham Vick, famous for his creativity and broadening opera conventions, chose Paria for his debut in Poland. He was fascinated by the timeless subject of social hierarchization. In cooperation with the Grand Theatre in Poznań, in the futuristic, yet sombre venue of Arena Poznań, Vick created a performance we have not yet seen in Poland. An interactive, experiential opera engaging the audience. The idea turned out to be bold, audacious, and startling.
[...] The performance was a dream come true for many music lovers who fantasised about being on stage, among artists. Vick created a new perspective of experiencing opera, allowing us to feel it with all our senses. It resembles an experiment in which a group of people is isolated in a closed space. An experiment that proved successful and whetted our appetite for more unconventional opera of this kind.'