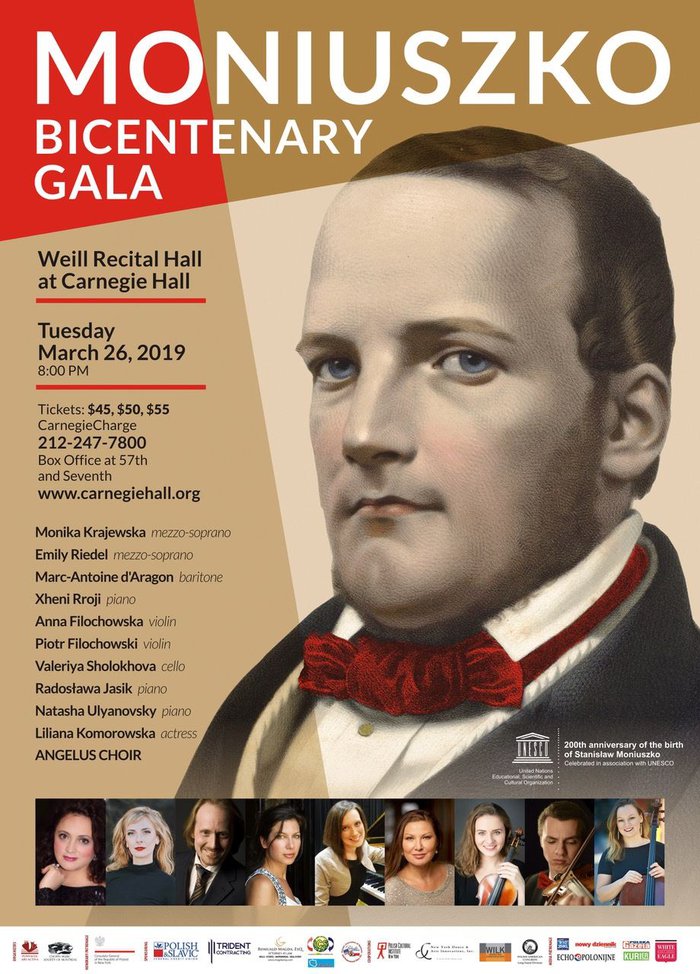 10 March 2019
Moniuszko Bicentenary Gala at Carnegie Hall
The Consulate General of the Republic of Poland in New York and Ars Activa Foundation cordially invite you to The Moniuszko Bicentenary Gala to be held on Tuesday March 26th, 2019 at 8 PM, Weil Hall, Carnegie Hall.
The Polish Government has declared 2019 the Year of Stanisław Moniuszko, the father of Polish opera.
It is an effort not only to 'shed light on the life and rich legacy of the exceptional conmposer', but also to show 'to Poles a patriotic attitude and the need amongst artists to draw inspiration from the Polish culture' (Polish Senate Resolution).
The concert in Carnegie Hall will showcase some of the most beloved songs and opera arias of the composer, as well as his String Quartet in D minor, virtuoso piano paraphrases of his songs, choir pieces, and the World Premiere of Crimean Sonnets by composer Norbert Palej to the words of Adam Mickiewicz.
The concert in Carnegie Hall will inaugurate the Moniuszko celebrations in the United States.
Featuring:
International Opera Singers
Marc-Antoine d'Aragon (baritone) and Monika Krajewska (mezzo-soprano) praised by New York Times for her 'rich and strong tone that expresses not only beauty, but a luminous sense of peace with comfort'
Emily Riedel, star of Discovery Channel's 'Bering Sea Gold'
Graduates from Curtis, Juilliard and Manhattan School of Music
Anna Filochowska, Academist at the Berlin Philharmonic hailed as 'the rising star of the youngest generation of Polish violin virtuosos'
Piotr Filochowski (violin), Radoslawa Jasik (piano), Xheni Rroji (piano), Valeriya Sholokhova (cello) and a guest appearance by New York's Polish Choir Angelus celebrating the 20th Anniversary of their creation
The concert will be hosted by Polish actress Liliana Komorowska.
STANISLAW MONIUSZKO
Songs: Grajek, Znasz li ten kraj, Do Niemna, Złota Rybka, Dalibóg! Ach naprawdę powiem mamie, Matko już nie ma cię, Prząśniczka, Ojcze Nasz, Przylecieli Sokołowie
String Quartet No. 1 in D minor
Arias from the operas The Haunted Manor and Halka
Virtuoso piano paraphrases of Moniuszko's Spinning Girl and Chopin's Maiden's Wish
World premiere of Crimean Sonnets for baritone and string quartet by NORBERT PALEJ to the words of Adam Mickiewicz in memory of Stanislaw Moniuszko
HENRYK WIENIAWSKI - Polonaise in A major
KAROL SZYMANOWSKI - Roxana's Song from the opera King Roger