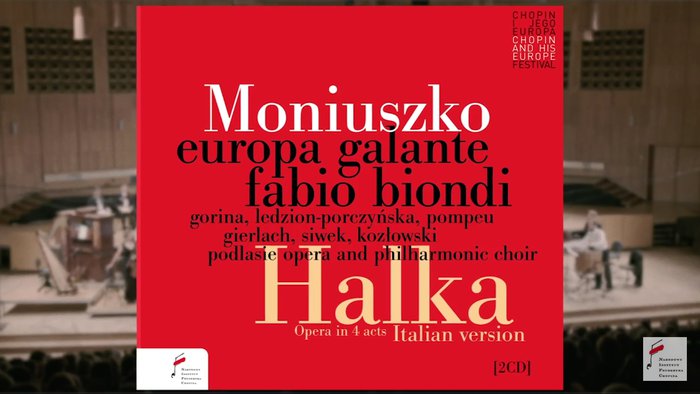 25 January 2019
Halka in Italian: new release coming up
The Fryderyk Chopin Institute, Warsaw is going to mark the Moniuszko bicentenary with a series of projects celebrating the composer and his work, including new recordings and releases. The first will see the light of day on 15 February 2019: Moniuszko's Halka sung in Italian by soloists Tina Gorina, Monika Ledzion-Porczyńska, Matheus Pompeu, Robert Gierlach, Rafał Siwek, Karol Kozłowski, and the Podlasie Opera and Philharmonic Choir accompanied by Europa Glante led by Fabio Biondi.
Recorded 160 years after the work's premiere, on 24 August 2018, at the Witold Lutosławski Concert Studio of Polish Radio, the concert was the first historically informed performance of the opera. It will be released in the 'Concerts Frozen in Time' series, which features performances on period instruments.
Translating the opera from Polish into Italian seemed a good way to introduce the work into the European romantic canon already in the 19th century. Two hundred years later it helped conductor Fabio Biondi discover the work for himself.
"My passion for the music of the great Stanisław Moniuszko is not a coincidence. It is extraordinary that living as he did in Europe in the first half of the 19th century, when the continent was swept by a musical frenzy fuelled by the phenomenon of Giuseppe Verdi, this great Polish master was able to develop such a distinctively personal style. His scores are distinguished by wonderful lyricism, excellent instrumentation that draws both on the great German symphonists and Italian simplicity, and superb use of Polish popular music of the time. All of this makes Moniuszko a composer you must pay attention to, and become passionate about, if you want to develop a better understanding of European music of the 19th century."
Fabio Biondi