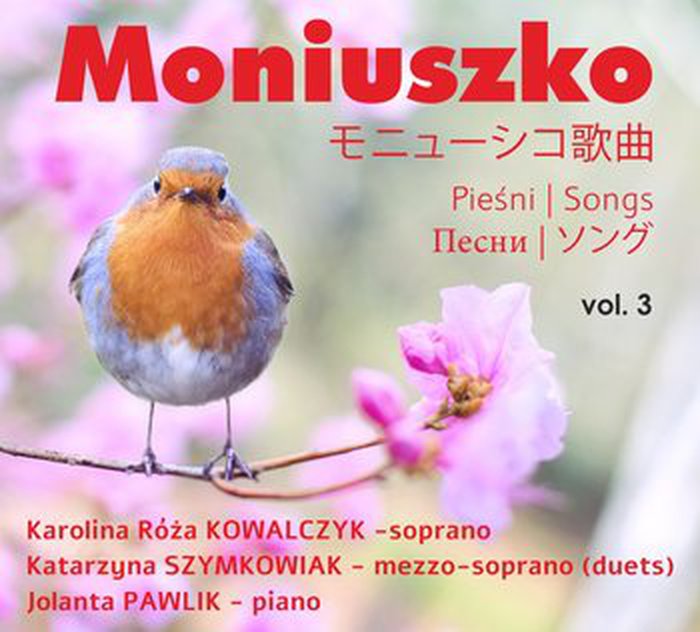 21 February 2019
Jolanta Pszczółkowska-Pawlik releases third CD in the Moniuszko. Songs series
Jolanta Pszczółkowska-Pawlik has just released her third album in the Moniuszko.Songs series. The award-winning pianist (recognised among others for her recordings of Schubert's songs with tenor Karol Kozłowski) and member of the board of the Society of Moniuszko Music Lovers has devised the project to promote Moniuszko's often underappreciated art song oeuvre.
All the albums in the series feature talented singers under the age of 30 as Ms Pszczółkowska-Pawlik wants to mark a generational changing of the guard and present a fresh approach to the interpretation of Moniuszko's art songs. The change of aesthetics provides new momentum, helping to popularise these brilliant, yet often forgotten, pieces.
The booklet accompanying the album includes English, Russian and Japanese translations of the songs.
The series started in 2014 with an album featuring mezzo Elwira Janasik. In 2016 Ms Pszczółkowska-Pawlik released the second CD featuring bass Michał Dembiński. The third album includes 24 songs and duets whose common motif is love, spring, innocence and longing. It features soprano Karolina Róża Kowalczyk who was joined for duets by mezzo Katarzyna Szymkowiak. Jolanta Pszczółkowska-Pawlik accompanies on the piano.
The track listing: Dary, Słowiczek, Jaskółeczka, Polna różyczka, Kotek, Pieśń Marii, Wędrowna ptaszyna (two songs under the same title), Przepióreczka, Do słowika, Co to za kwiatek, Cztery pory roku, Wiosna, Kukułka, Dąbrowa, Dalibógże, Czy powróci, Niech się panie stroją w pasy, Gdyby kto mnie kochał szczerze, Kwiatek, Miłość, Naprzód ciebie wspomina, Na głowie ma kraśny wianek, Pierwsze wrażenie.
Listen to Jolanta Pszczółkowska-Pawlik talk about her fascination with Moniuszko's music in an interview for Polish Radio 2 (in Polish only).