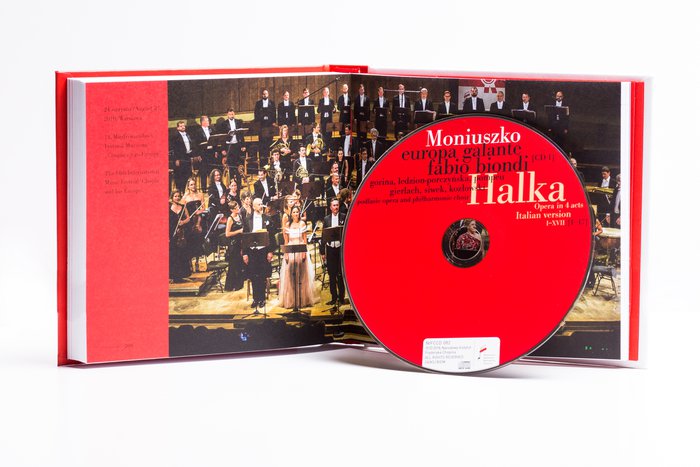 16 February 2019
World premiere of Halka in Italian
'My passion for the music of the great Stanisław Moniuszko is not a coincidence. It is extraordinary that living as he did in Europe in the first half of the 19th century, when the continent was swept by a musical frenzy fuelled by the phenomenon of Giuseppe Verdi, this great Polish master was able to develop such a distinctively personal style. [...] All of this makes Moniuszko a composer you must pay attention to, and become passionate about, if you want to develop a better understanding of European music of the 19th century,' said Fabio Biondi having led his Europa Galante in a historically informed performance of Stanisław Moniuszko's Halka. The excellent conductor's love for Moniuszko music bore fruit in the form of a CD which has just been released by the Fryderyk Chopin Institute in Warsaw.
This is what John Allison wrote of the opera's concert performance: 'The period instruments supplied lightness and colour—and were surprisingly full-bodied in the dramatic effects—just as they were characterful in the third-act highlanders' dances and the fourth-act suggestion of dudy (bagpipes). And of course they played with Italianate brio, but far from showing how much Moniuszko owed to Bellini and Donizetti, as has often been claimed, this performance in Italian actually showed up the differences and reinforced Moniuszko's distinctive voice.' (Opera, November 2018)
Stanisław Moniuszko had a great passion for the opera: his letters are full of recollections of music, singers and even set designs of performances he saw. The feeling was mutual, and palpable during the premiere of his Halka in Vilnius on 1 January 1848, when the opera was presented in front of 301 listeners. The critics were dazzled by the 'work of supreme inspiration' which has 'made a powerful impression' on the audience.
Yet, ten years had passed before the opera was given its debiut in Warsaw. Enlarged to include four acts, the work thrilled the Warsaw audience. After the premiere show, the composer and the singers returned two times for the curtain call. Tickets to subsequent peformances sold out immediately. The opera's piano reduction was released in mid-1858, followed by a version with the Polish and Italian libretto translated by Moniuszko's friend and the original Jontek, Giuseppe Achille Bonoldi. As a result, 'Halka was the beginning of a new period in the history of Polish opera' almost cross 19th-century Europe.
Recorded 160 years after the work's premiere, on 24 August 2018, at the Witold Lutosławski Concert Studio of Polish Radio, the concert was the first historically informed performance of the opera. It will be released in the 'Concerts Frozen in Time' series, which features performances on period instruments.
Translating the opera from Polish into Italian seemed a good way to introduce the work into the European romantic canon already in the 19th century. Two hundred years later it helped conductor Fabio Biondi discover the work for himself.


About the CD:
Halka, concert performance, recorded on 24 August 2018 during the Chopin and His Europe Festival: From Chopin to Paderewski, Warsaw
Soloists: Tina Gorina (Halka) / Monika Ledzion-Porczyńska (Zofia Sofia) / Matheus Pompeu (Jontek) / Robert Gierlach (Janusz Gianni) / Rafał Siwek (Stolnik Alberto) / Karol Kozłowski (Młodzieniec Giovanotto)
Choir soloists: Mateusz Stachura (Dziemba Gemba) / Kiryll Lepay (Gość, Dudarz; Contadino, Zampognaro, / Paweł Cichoński (Gość Contadino)
Podlasie Opera and Philharmonic Choir under Violetta Bielecka Europa Galante under Fabio Biondi
Released on CD: 15 February 2019
Available at: https://sklep.nifc.pl/index.php?produkt=2_145
and on the following streaming services: http://soundline.biz/Halka